Watch TV Everywhere is exactly what it sounds like. Whether you're in the next room or on the road, watch the shows you love on your tablet, smartphone, PC, or Mac.
The best part? It's free! All it takes is a subscription to Doylestown Cable; any networks included in your cable package can be viewed for no extra charge through WTVE.
To get started, simply register using your  account number (for validation purposes).
For help registering, see How to Register on our Doylestown website.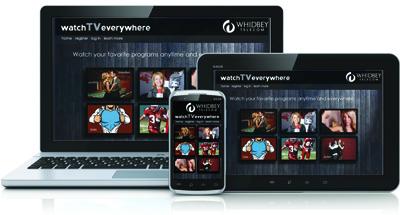 WatchTVEverywhere is includes Live TV and has full episodes of current TV shows. Different networks make different programs available at different times. Each TV network makes their own decision about what to make available on WTVE. We are working with many different program providers to expand the number of networks and the number of programs available on WTVE. Registered users are presented with a complete list of all the networks available to them once logged in. WTVE works anywhere you can receive an adequate Internet signal. The quality of WTVE signals while roaming (airports, stores, etc.) will vary depending on the strength and speed of the signal. While traveling, especially outside the US, data roaming charges may apply.